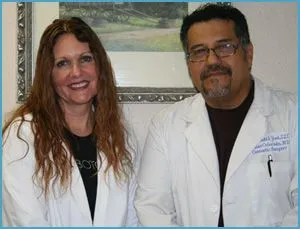 Dr. Kathleen Colorado and Dr NICK Welcome you !
Please call our main Telephone number at #813-661-6667 .. and one of our friendly staff members will answer to assist you. Thank you....Dr Kathleen Colorado and Dr Nick Colorado...
Dr Kathleen Colorado, Board Certified Dermatologist offers array of Dermatology, Cosmetic Dermatology evaluations and treatments. CANCER SCREENING AND SKIN CARE REGIMEN ASSISTANCE :Skin Cancer Checks, Rashes, Psoriasis, eczema, allergic skin reactions, stubborn Acne. From Rashes to abcesses,We can resolve your issues. Often with combination treatments: topical treatments, the latest "Biologic" treatments such as Tremfya, Humira, Embrel, Stelara, Accutane .... and/ or Natural , preventive and homeopathic approaches are also offered.
Dr Nick Colorado specializes in Total "BODY MANAGEMENT" to include: SKIN CARE, FILLERS, BOTOX, NUTRITION, WEIGHT LOSS, PREVENTIVE MEDICINE, BODY CONTOURING WITH COOLSCULPTING FAT REDUCTION, SKIN TIGHTENING LASERS AND MUCH MORE!!! ....as well as Hormone and Aging, Fitness and Nutritional Management, BODY CONTOURING, as part of AESTHETIC, preventive medicine and HEALTHY AGING PROGRAMS.
We offer Botox, Fillers, micro-cannula technique, vein therapies, Photofacials , IPL laser treatments, "Fat melting and body contouring" treatments, Eclipse Automated Micropen micro-needling, Platelet rich Plasma facial treatments, Cleansing Facials, Rejuvinating Chemical peels, microdermabrasion, Skin tightening and Skin contouring as well as Wellness evaluations.
Call and make an appointment, we have something for every skin issue need in a friendly, helpful atmosphere!
For appointment times please call our scheduling line at tel# 813-661-6667 Monday thru Friday 8:30 AM to 5:00 PM. We have Saturday Morning Appointment Availabilities. Same Day appointments are often available. Just ask our friendly Scheduling Staff.
Selected Services we offer See a Complete list at Our Services or see Cosmetic and Aesthetic Services
WE HAVE ADDED COOLSCULPTING PERMANENT FAT REDUCTION TO OUR MENU OF PROCEDURES OFFERED !
Skin CANCER SCREENINGS and Treatments ....See our Skin Cancer Pictures, Melanoma Photos
Psoriasis treatments, Eczema conditions, AS WELL AS skin "allergies" and other Skin Conditions managed
ALL Dermatology CONDITIONS AND ISSUES ....Rashes, Cysts, Acne, Bumps....
IPL Palomar Photofacial Laser Treatments and Laser Hair Removal
Yag Laser Skin Tightening Laser...Jowels, Loose Neck, Arms and Tummy
Botox Treatments, Advanced and Basic
Dermal Fillers,

WRINKLE FILLERS

,

Advanced

Restalyne", Juvederm", and Radiesse" OPTIONS
Chemical Peels and EXPERT FACIAL TREATMENTS
Dermaplaning treatments
Eclipse Micropen Microneedling Treatments
PRP Stem Cell
Laser Treatments Hair Removal, Wrinkle and Scar removal

Quality care
When you need Dermatology care, Cosmetic and Aesthetic procedures, Hormone evaluations and management, or Nutritional advice and support.....We have an experienced team that can effectively diagnose and treat your needs ......with the latest approaches and treatments.....a friendly group of Doctors that can improve and maintain your health needs inside and out. WE PAY ATTENTION TO THE LITTLE THINGS.
PHILOSOPHY
Dr Kathy Colorado and Dr Nick have a vision to provide a broad range of Medical, Surgical and Natural approaches to healing and preventive care. We treat and try to understand each person as an individual. And we listen with our hearts as well as our minds and ears.... It is said..."The good physician treats the disease; the great physician treats the patient who has the disease." Sir William Osler.